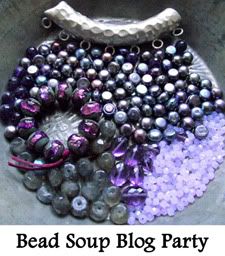 Bead Soup
loot that is!!! This is my second round of Bead Soup because the first go around was such fun!
Lori Anderson
hosts this amazing event - and puts a TON of work into - for us all to have a lot of fun! So a HUGE thank you to
Lori
!
I mentioned earlier that my partner was Nadya Parfyonova of
Nally's Creations
. I think I forgot to mention that she is from Russia...poor girl waited SOOOOO long (about 26 days) for the beads I picked to arrive (note to self when the post office says 6 - 10 days for a package to get to Russia remember to add about 16 days). I was feeling fall-ish when I selected her beads...thought this combination was very cool. What do you think?
See - doesn't it remind you of fall? Hope she has enough time to make something beautiful. I can't wait to see what she comes up with.
Now check out what she sent me:
She said her good friend made the absolutely FUN frog lampwork bead. What a cute little guy! I adore this color combination that she sent. So fun....so beautiful....I can't wait to show you what I have created! I had a lot of fun - tried some new things....please come back on the 17th for the big reveal!!